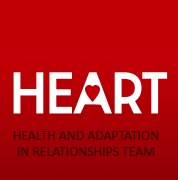 THE HEART LAB
---
HEalth & Adaptation in Relationships Team
Our Mission:
Research in the HEART Lab focuses on close relationships. We seek to understand:
how couples adapt to stressors

how couple adaptation and relationship functioning can be improved

how relationships can be leveraged to prevent health problems



---
Most couples face a number of chronic and acute stressors over the course of their relationships. Our work is rooted in the idea that the way a given couple adapts to the stressors that arise is influenced by the nature of the stressor (e.g., chronic, acute), vulnerability factors that partners bring to the relationship (e.g., personality characteristics or family history), and the overall quality of their relationship (Karney & Bradbury, 1995). Over time, their relationship quality will also be affected by how they adapt. Thus, distressed couples (i.e., those with clinically low levels of relationship quality) are less likely to adapt effectively to challenges and, thus, are more likely to experience additional stress; likewise, couples who do not effectively adapt to challenges are more likely to experience additional stressors and to have low levels of relationship quality.
Poor physical health of one or both partners functions as a stressor for many couples and is linked to worse relationship quality through a series of interrelated biopsychosocial processes (Robles et al., 2014). If one partner has (or is at risk for) a chronic disease, there are several lifestyle factors that, if changed, may improve the long-term outcomes for the individual. Yet, individual partners' adaptation occurs in the context of their relationship – one partner making changes to their physical activity or eating habits is likely to influence the other partner and vice versa. Due at least in part to this mutual influence, partners tend to be similar in a wide range of aspects of health, including lifestyle factors and risk for chronic disease. Although there are many couple- and family-based psychosocial interventions for adults who have developed chronic diseases (Martire & Helgeson, 2017), few programs that aim to prevent chronic diseases systematically include close others.
Our current work seeks to examine whether including close others in primary prevention of type 2 diabetes leads to superior outcomes compared with delivering programs to individual adults. As a first step, we partnered with clinical scientists at Denver Health and the University of Colorado-Denver to examine whether there were differences in outcomes between individuals who signed up for the CDC's year-long National Diabetes Prevention Program (DPP) together with another household member and those who signed up alone. The DPP was efficacious in a large randomized controlled trial (The Diabetes Prevention Program Research Group, 2002), but results in the community demonstrate room for significant improvement in intervention outcomes as well as in recruitment and engagement of those at highest risk (Ely et al., 2017). We found those who signed up for the program together with another household member were more likely to enroll and complete the program, and stayed in the program longer, relative to those who signed up for the program individually (Ritchie, Baucom, & Sauder, 2020). Further, men who signed up with another household member, compared with men who signed up individually, were more likely to meet the CDC goal of at least 5% body weight loss (Ritchie, Baucom, & Sauder, 2020). Although the nature and quality of the relationships among household members were unknown, this initial work suggests that including close others in primary prevention programs may increase enrollment, engagement, and possibly even outcomes, of primary prevention programs.
With funding from the National Institutes of Diabetes and Digestive and Kidney Diseases (NIDDK), we are in the process of adapting the DPP for delivery to couples who want to go through the program together. This adaptation is guided by (1) data we are collecting to qualitatively describe partner influences on lifestyle change in the DPP and preferences for couple-based lifestyle intervention, and (2) feedback from a Community Advisory Board formed in January 2019 to ensure the couple-based adaptation of the DPP will be broadly applicable to couples across racial, ethnic, and cultural groups.